The 2018 NFL season has officially come to a close…and you know what that means?! It's officially draft season and we are just 77 days from the 2019 NFL Draft. The Draft is the biggest offseason even for the NFL fans and mock drafts are flooded across the internet. Check out my first of three mocks below!
1. Arizona Cardinals: DE Nick Bosa (Ohio State)
The Cardinals have multiple holes that they need to fill. A good place to start is by taking the best player in the draft. Nick Bosa is not only the best pass rusher in this class but the best overall player, and partnering him across from Chandler Jones is a good starting point to keeping Russell Wilson, Jared Goff, and Jimmy Garoppolo on their heels in 2019. Adding Bosa makes the Arizona defensive line a threat again.
2. San Francisco 49ers: DT Quinnen Williams (Alabama)
The 49ers have invested a lot of high draft picks into their defensive line in the last five years and that trend is going to continue with this pick. Pairing Quinnen Williams with DeForest Bucker in the middle of that San Francisco defensive line will force opposing quarterbacks such as Jared Goff and Russell Wilson to flush out of the pocket consistently. Williams is an extreme force and the best defensive tackle in a class that will likely go down as one of the best ever from an interior defender perspective.
3. New York Jets: EDGE Josh Allen (Kentucky)
It's no secret that the Jets need help off the edge. Offensive Line is an option here as well but this seems a bit early for a guy like Jonah Williams or Cody Ford to come off the board. Josh Allen is a freight train coming off the edge, racking up 31.5 sacks in four years at the University of Kentucky and someone has to try and find a way to get after Tom Brady.
4. Oakland Raiders: DT Ed Oliver (Houston)
The Raiders are another team that need to go best player available because they have so many holes that need to be filled across their roster. Ed Oliver is next up on the best player available list. The Oakland defense suffered immensely after trading away Khalil Mack last season. Ed Oliver lives in the backfield and can consistently get after the quarterback when called upon.
5. Tampa Bay Buccaneers: DT Rashan Gary (Michigan)
It sounds like there is some growing speculation that Gerald McCoy has seen his final days as a Buccaneer. If that is in fact true the Bucs will need to find a replacement quickly. Rashan Gary is the man that can fill that void. It's important that the Bucs continue to feed their defense and slowing down those offensive juggernaut's in the NFC South is always a challenge.
6. New York Giants: T Jonah Williams (Alabama)
I'm torn between an offensive lineman and Dwayne Haskins here for New York, but the Giants are tied to Eli Manning for another year yet and next years QB class is much better than this one. Thus, the pick here is Jonah Williams. Protecting Eli Manning is key to the success of the Giants offense and it's something that they struggled to do mightily in 2018. Jonah Williams can play inside and out and the flexibility is something the Giants can't afford to pass up.
7. Jacksonville Jaguars: QB Dwayne Haskins (Ohio State)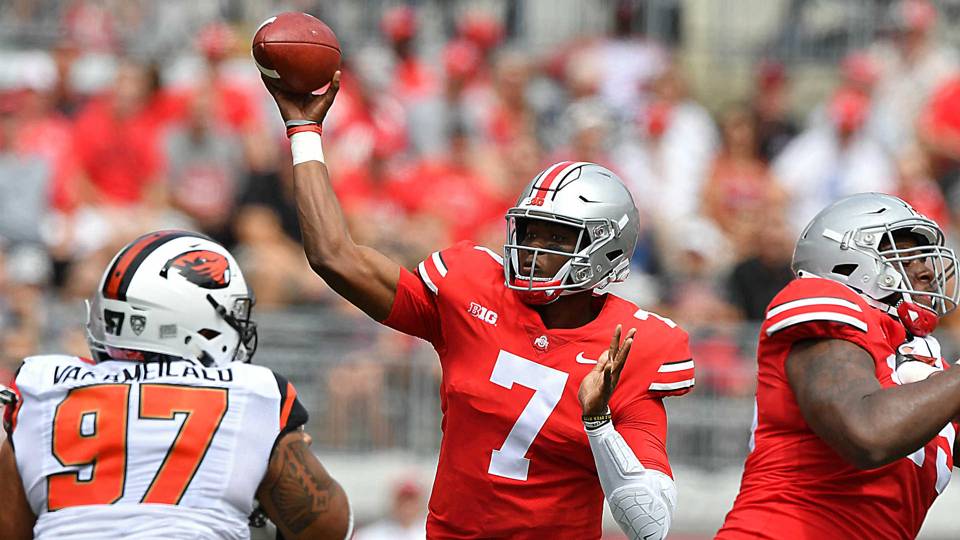 The Jaguars quarterback depth chart is going to look a lot different in 2019 and I expect that it will be a mix of free agents/trades/draft picks. Dwayne Haskins is the best quarterback in this class and the Jacksonville offense is in desperate need of a fresh breath of air.
8. Detroit Lions: DE Clelin Ferrell (Clemson)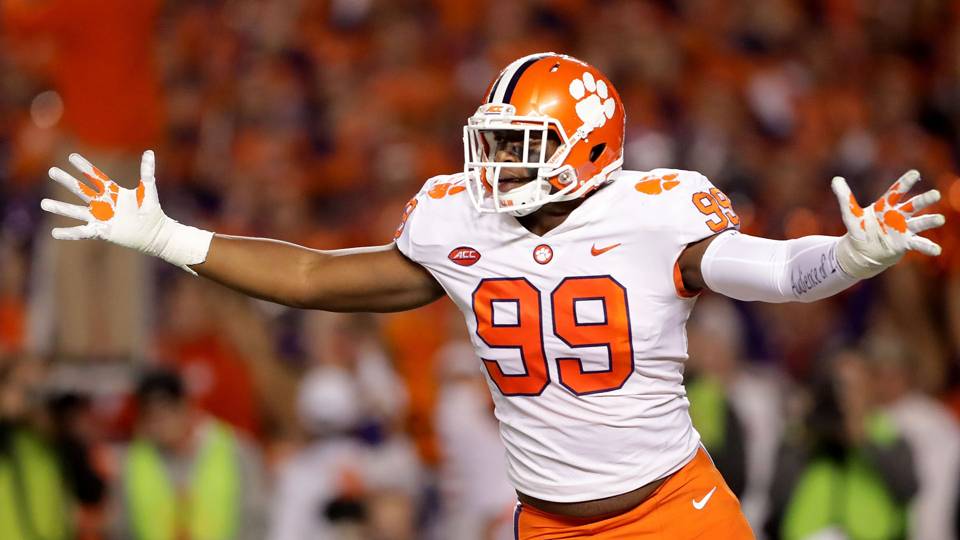 Matt Patricia will need to find a new toy as it looks like Ziggy Ansah has played his final down as a Lion. The Lions defense has had a hard time getting after the quarterback in recent years which is something that's pretty important when it comes to playing defense in the NFC North. Selecting one of the best pass rushers in this years class makes a ton of sense here at #8.
9. Buffalo Bills: G Cody Ford (Oklahoma)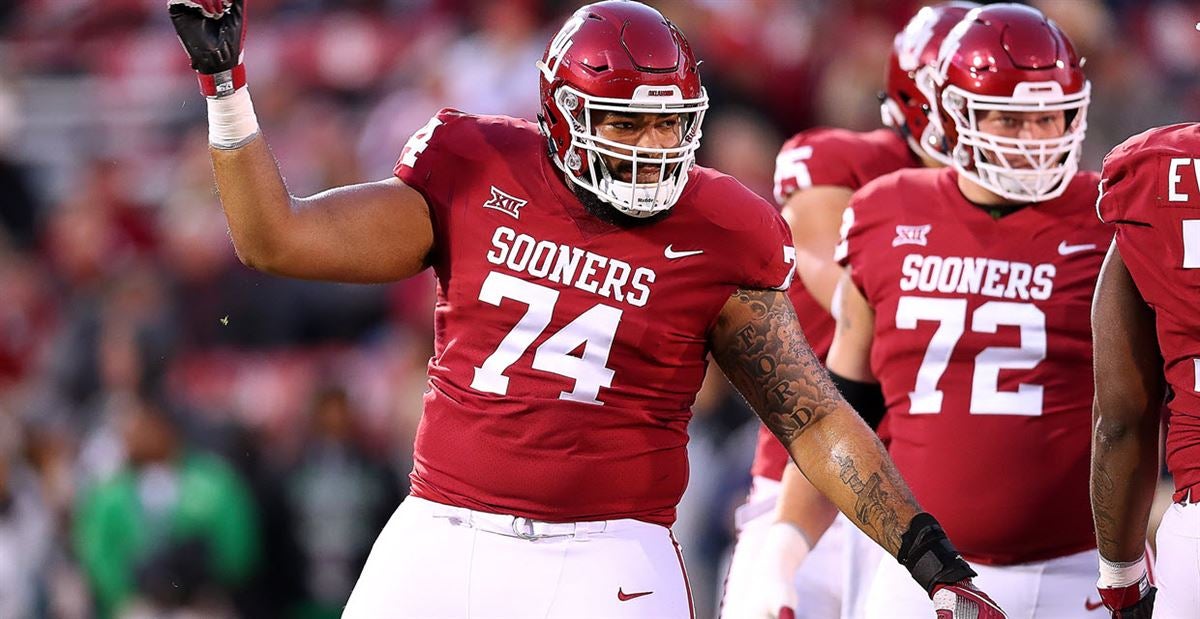 If you want to continue the development of your new pride and joy (Josh Allen) then you better find a way to keep him clean. Cody Ford is a mammoth of a human being weighing in at 340 lbs. I have concerns about him blocking speed and athleticism at the NFL level if he plays Tackle, so I believe he's a much better fit at Guard. Buffalo gets a good one at #9.
10. Denver Broncos: QB Drew Lock (Missouri)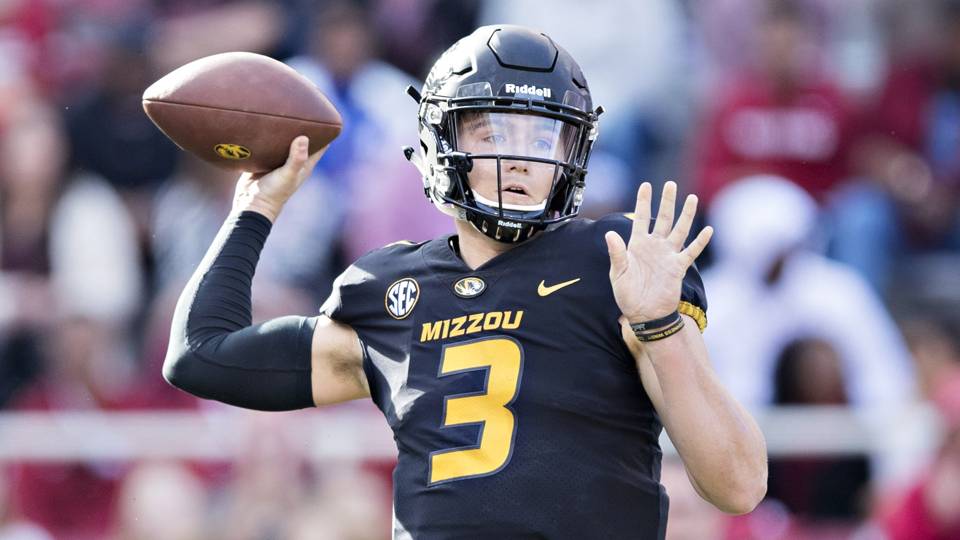 John Elway is running out of chances on Quarterbacks. Trading for Peyton Manning was the best decision he ever made but he's had a hard time finding a replacement since then. Case Keenum can get the job done but I'm not sure he will ever win you a Super Bowl. Drew Lock has arguably the strongest arm of any QB in this years class and the sky is his ceiling if you can put the right pieces around him.
11. Cincinnati Bengals: LB Devin White (LSU)
The best linebacker in this years class comes off the board at #11. The Bengals need to get younger and faster on defense and Devin White is the perfect pick for that.
12. Green Bay Packers: EDGE Jachai Polite (Florida)
The Packers had a hard time getting after the quarterback in 2018. Clay Matthews may have played his last down in Green Bay, Nick Perry can't seem to stay healthy, and Kyler Fackrell had a great year but shouldn't be settled for as a #1 option. Jachai Polite is a joy to watch with elite bend and burst coming off the edge. He can be a quick-fix for the Packers defense.
13. Miami Dolphins: EDGE Montez Sweat (Mississippi State)
Another team that needs help on the edge? You don't say. The Dolphins are another team that had a hard time getting after the quarterback in 2018 and they don't just need help…they need to get younger. Montez Sweat is one of the quickest risers amongst expert big boards in the last month and he makes a ton of sense for Miami here at #13.
14. Atlanta Falcons: DT Jeffery Simmons (Mississippi State)
Back to back Mississippi State alumni here at pick #13 & #14. The Falcons are a prime candidate to be one of those "worst to first" teams in 2019 and Jeffery Simmons can help them do that. I pray for the opposing offensive lines that have to face an interior defensive line of Jeffery Simmons on Grady Jarrett on Sunday's next year.
15. Washington Redskins: QB Kyler Murray (Oklahoma)
We've recently received word that the Redskins don't plan on Alex Smith playing in 2019…or for that matter of fact, ever again. This is an exciting pick that can ignite the Washington fan base again. The reigning Heisman Trophy Winner is heading to the Capitol to make plays and much like the Jaguars, you could probably expect the Redskins to make a move for a guy like Joe Flacco/Nick Foles this offseason and draft a quarterback to learn under a vet for a season or two.
16. Carolina Panthers: CB Greedy Williams (LSU)
I had a hard time selecting the first corner off the board all the way down at #16, but here we are. Greedy Williams is the best corner in this years class and he's everything you want in a corner. He can cover, he can tackle, and he can jaw with the best of them. Having a guy like this is on your squad is pretty important when you have to face guys like Julio Jones, Michael Thomas, and Mike Evans twice a year.
17. Cleveland Browns: T Jawaan Taylor (Florida)
Baker Mayfield sparked the Cleveland offense for the first time in a decade this past season, but for the first time in a decade the Browns had a hard time protecting the quarterback this past season. Jawaan Taylor is the best offensive lineman available here and he can step in and be your LT1 on day 1.
18. Minnesota Vikings: OL Yodny Cajuste (West Virginia)
Vikings fans across the country will be pulling out their pitchforks and torches if an offensive lineman isn't the pick here at #18. I love Yodny Cajuste. He won't be the sexiest pick in the world but what he does offer the Vikings is the flexibility that they want and need. His athleticism allows him to play inside and out and his measurables can fit anyone's desires at 6'5″, 310 lbs. The Vikings made a hefty $84 million dollar investment last year…now it's time to protect it.
19. Tennessee Titans: WR DK Metcalf (Ole Miss)
Playmakers. Marcus Mariota needs more playmakers. The running back position is set and Delanie Walker will be coming back but Corey Davis needs some help to take the heat off of him on the outside. DK Metcalf is the first wideout off the board and he's a good one. As crazy as it sounds…I don't the Titans are far away from competing for a ring in the AFC.
20. Pittsburgh Steelers: CB DeAndre Baker (Georgia)
DeAndre Baker fits everything Mike Tomlin is looking for in one of his defensive backs. He can play the line of scrimmage better than any other corner in this class and he's not afraid to put his nose in the ground and put a running back on his back. Joe Haden is aging and Artie Burns has been a nightmare. The Steelers have sent out the S.O.S. sign in their defensive backfield.
21. Seattle Seahawks: CB Byron Murphy (Washington)
The Huskies pride and joy is staying in Seattle. This pick allows Tre Flowers to move back to free safety with the impending loss of Earl Thomas coming soon. Murphy can step in on day one and be the starter across from Shaquill Griffin.
22. Baltimore Ravens: WR N'Keal Harry (Arizona State)
N'Keal Harry is a good fit for the Ravens offense now that we are officially in the Lamar Jackson era. Harry can work back to the ball and his catch radius is something that can help Jackson immensely in his development. I love this pick for Baltimore.
23. Houston Texans: T Greg Little (Ole Miss)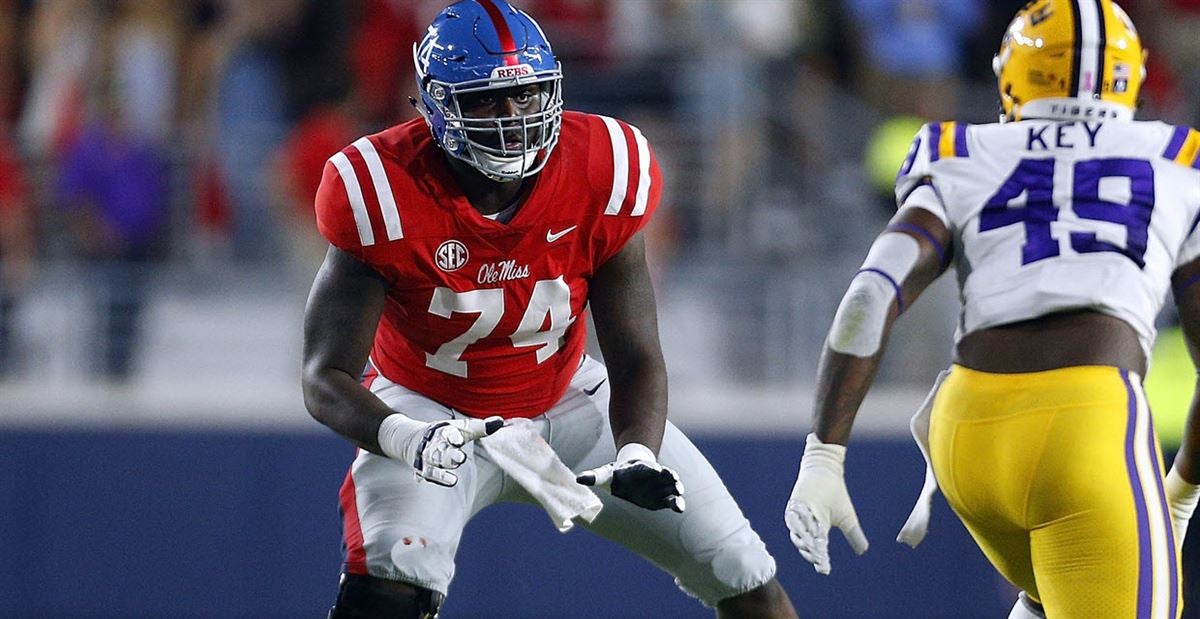 You can't find an NFL team that needs more offensive line help than the Houston Texans. No QB in the league was sacked and hit more than Deshaun Watson last season and the best available offensive lineman should be the pick here. In this case it's Greg Little. At 6'6″ 325 lbs, Little has incredibly nifty feet for his size. Deshaun Watson has already impressed despite being under constant pressure. Imagine what he can do with some time.
24. Oakland Raiders: WR Marquise Brown (Oklahoma)
This kid can fly. Jon Gruden and the Raiders traded away Amari Cooper to Dallas in the middle of the season and the receiving corps were never the same. Derek Carr has a terrific arm. It would be wise to grab a player that can allow him to test it.
25. Philadelphia Eagles: CB Trayvon Mullen (Clemson)
The Philadelphia corners got roasted this season and it was most likely their downfall in the playoffs. Granted, the unit had a hard time staying healthy…I still believe they need to upgrade in that area. Trayvon Mullen is a long, physical corner that would bring some physicality to the Eagles DB unit that they have been missing.
26. Indianapolis Colts: EDGE Brian Burns (Florida State)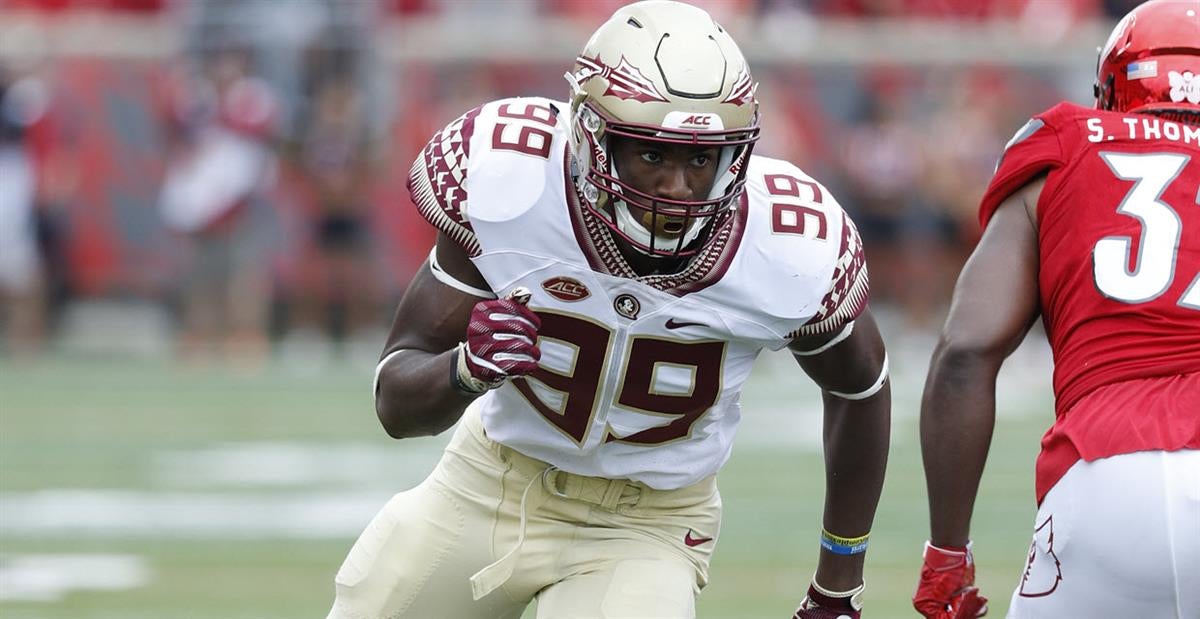 Jabaal Sheard and Tyquan Lewis. Outside of those guys the Colts don't have anything for pass rushers. Brian Burns is the best available EDGE rusher and could ultimately end up stealing someone's spot as a starter.
27. Oakland Raiders: RB Josh Jacobs (Alabama)
The Raiders have three running backs that are going to be free agents this offseason. With their third first round pick, Jon Gruden and the Raiders grab another playmaker. This time it's arguably the best running back in the class. Josh Jacobs has incredible change of direction and runs for the goal-line like it's the last time he's ever going to touch a football. He should put up big numbers behind that Oakland offensive line.
28. Los Angeles Chargers: DT Christian Wilkins (Clemson)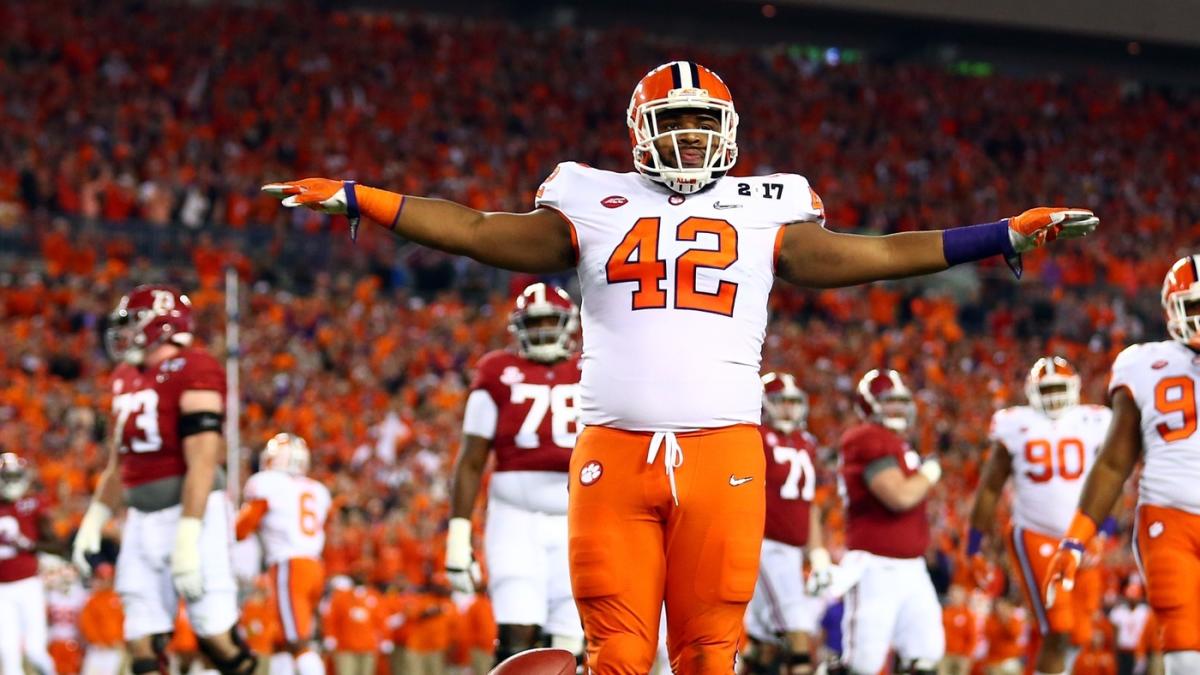 The Chargers have numerous interior defenders that are going to be free agents and some of them aren't exactly getting any younger. Adding Christian Wilkins to a defensive line that already includes Joey Bosa and Melvin Ingram is an impending nightmare for opposing offensive lines. When you face an offense like Kansas City's twice a year, this pick makes a lot of sense.
29. Kansas City Chiefs: S Deionte Thompson (Alabama)
Deionte Thompson and a healthy Eric Berry have the potential to be one of the best safety duos in all of football. I wanted to select a corner here but their are none left worthy of a first round pick, in my opinion. Deionte Thompson is the best safety in the draft and can instantly step in and help out a Kansas City secondary unit that ended up being one of the worst in the league statistically in 2018.
30. Green Bay Packers: TE TJ Hockenson (Iowa)

The Packers had yet another failed experiment at Tight End in 2018. Jimmy Graham failed to live up to expectations and there is some skepticism that he could even be a surprise cut this offseason in Green Bay. TJ Hockenson is considered by some to be the best Tight End in this well-rounded class and he would certainly be a dangerous weapon for Aaron Rodgers to go along with Davante Adams and Aaron Jones.
31. Los Angeles Rams: LB Devin Bush (Michigan)
The Los Angeles defense is loaded with talent at almost every position except Linebacker. Devin Bush would give the Rams a fresh pair of young legs that can move from sideline to sideline and make plays…which is something they have lacked for the second season in a row.
32. New England Patriots: QB Daniel Jones (Duke)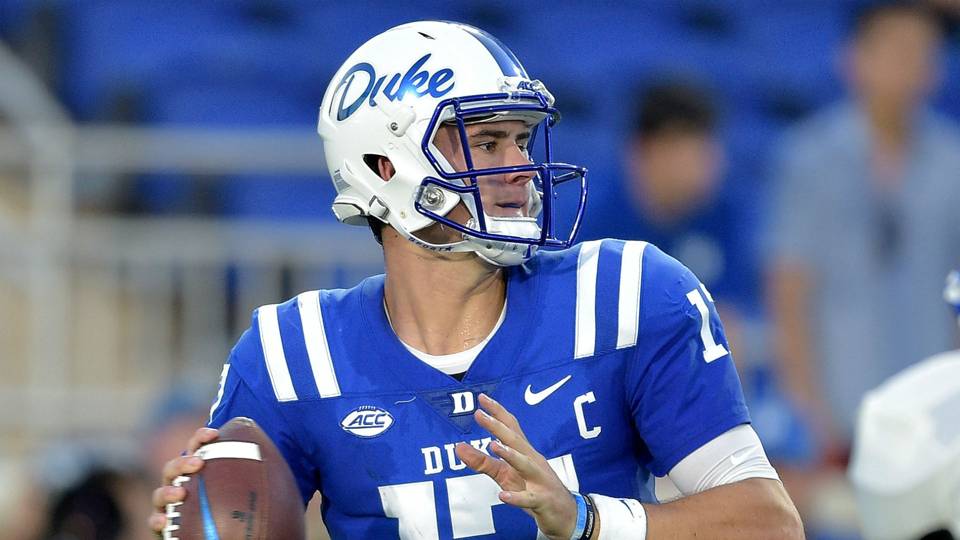 It's time to add another Quarterback to that factory Bill Belichick is running up in New England. Whether we like to admit it or not, Tom Brady's legacy has to be coming to an end sooner rather than later. Brian Hoyer certainly isn't the answer long-term, so I suspect that the Patriots will once again select a QB in this years draft. Daniel Jones is a great fit and someone that has all the tools to fill in for Brady if he decides to retire within the next 2-3 years.
Like and Share this article: